This year for
my hubby's Valentine's Day gift
I got him a tour through the base. This tour is called the
Italian Super Motor Tour
. We would tour four different kinds of Italian vehicles. As many of you may be guessing they were
Lamborghini, Ducati,
one I'm unsure of and
Ferrari.
I know every guys dream! To say the least he was totally thrilled and extremely excited the whole and I mean the whole day! I could have been more relieved that he just loved this gift. We were originally suppose to go see a private collection of Maserati, but that fell through last minute, so we ended up with cars that looked like they were from Speed Racer (if you ever saw the show or movie you know what I'm talking about). Of course we took tons and tons of pics!
Our first stop for the day was at
Lamborghini
. I personally thought this was the best part of the whole tour. Here we got to tour a museum and see the classics all the way up to newest ones available. Being the first stop all the guys were in heavan and it was totally fun to watch, but at this place we not only able to tour the museum but also the factory. The factory part is what I found most fasinating. We learned that they only produce about 5 cars a day because everything is hand down, no machines or robots doing the work there thank you. We were unable to take pics on the factory tour, but I'm certain its something we'll always remember! On our particular tour we got to see something amazing. I know I know that I used to work on C17s and that I've seen engines installed on these and I'll admit the first time I saw it I was sort of amazed, but I guess being around them for so long the novelty wore off, but in the factory we were fortunate enough to witness an engine being installed in a Murcielago. It was custom built right side driver and to top it off one of two women that worked in this area was doing the work! I love it when women are doing a "man's" job! Although we were unable to take pictures in the factory I have a ton to share from the museum its self.
While on the museum tour we did learn a couple interseting facts. Lamborghini started out making tractors. He became very rich doing this and once he had made a name for himself he requested a meeting with the Ferrari creator who continuously refused to meet with him. Finally they met in person and Mr. Lamborghini asked him why his cars were not more powerful and he was told it was not the car but the drivers inability to properly drive a car of that magnitude. Afterall how can someone who drives and creates tractors understand. Well he took those comments personally and decided to create a car that was better than the Ferrari and some will say he succeeded in doing so. We also learned a few more interesting facts but I won't ruin the tour for those of you interested in going!
Enjoy the pics but I'm not adding any captions because I don't want to label the cars wrong! Enjoy!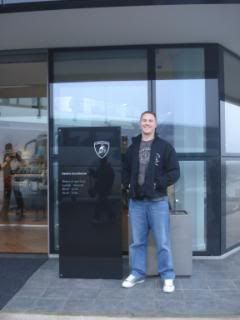 THE FIRST STOP OF THE DAY! LOOK AT THAT BIG OLE CHEESY GRIN!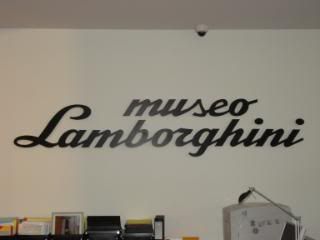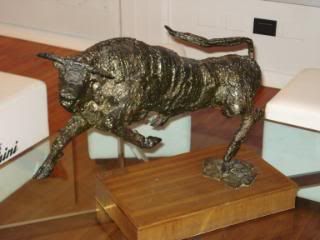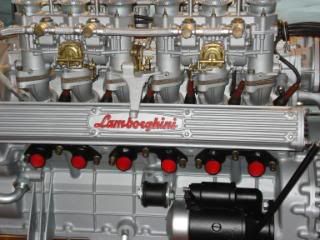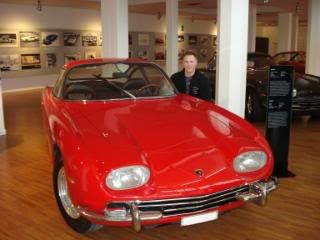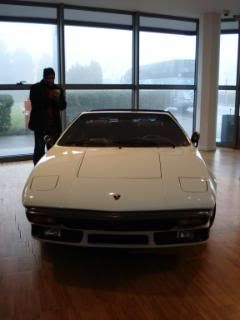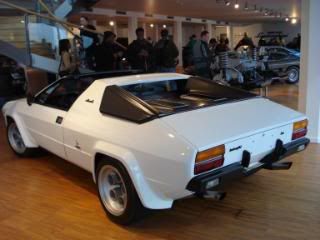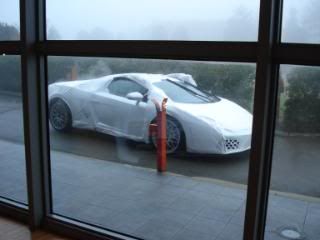 BRAND NEW LAMBORGHINI PULLING OUT OF THE FACTORY. THIS GOT ALL OF THE GUYS ATTENTION AND THEY ALL STOPPED IN THEIR SPOTS TO STARE AND THEN TALKED ABOUT IT FOR LIKE TEN MINUTES AFTERWARDS!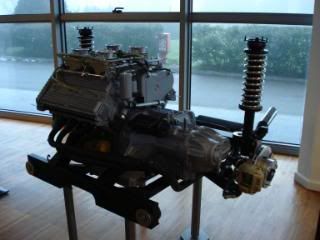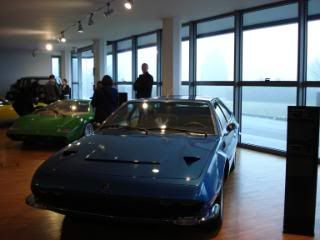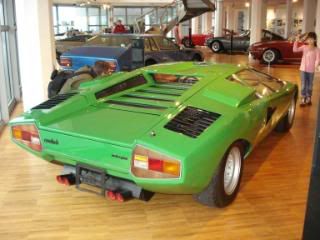 WHO KNEW THAT LAMBO EVER MADE AN SUV LOOKING THING?!?! I GUESS YOU DIE HARD CAR FANTATICS DID....
I ALSO DIDN'T KNOW THAT THEY MADE ANYTHING A FOUR SEATER!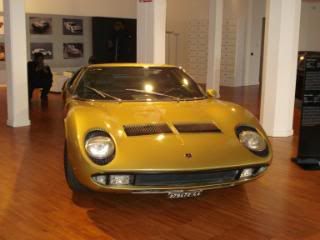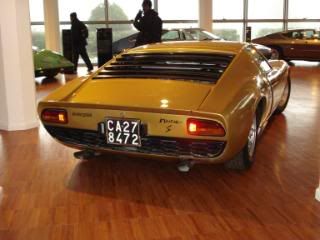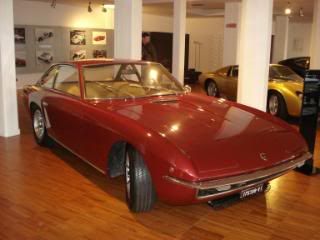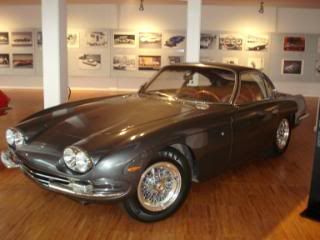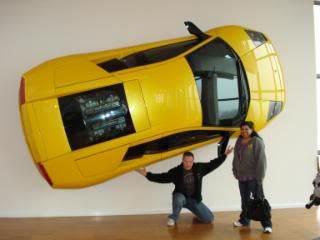 OF COURSE ITS NOT A TRIP WITHOUT THE HUBBY DOING SOMETHING SILLY!!!!!!!!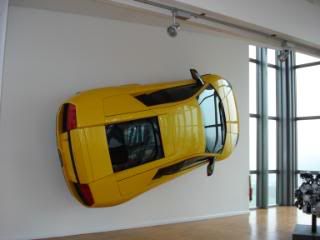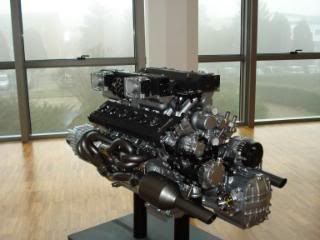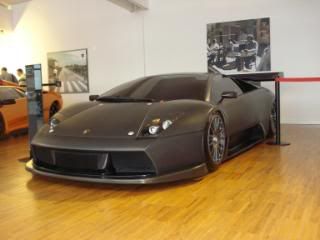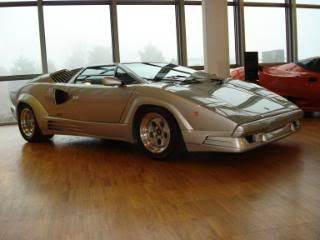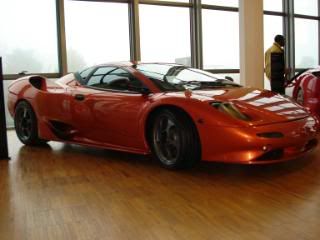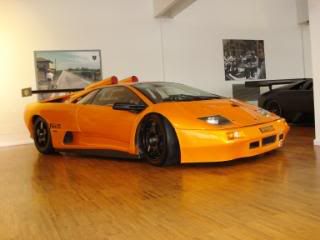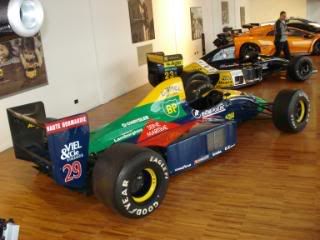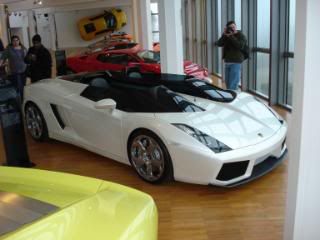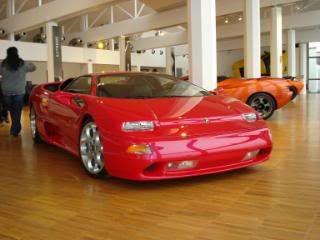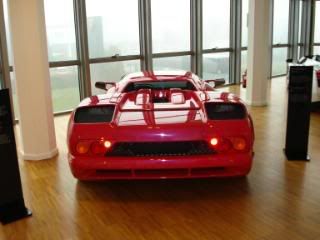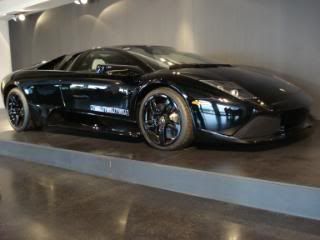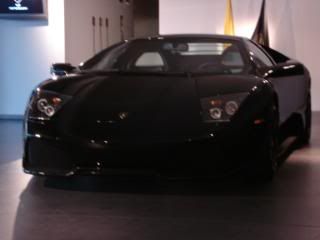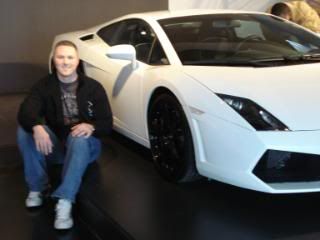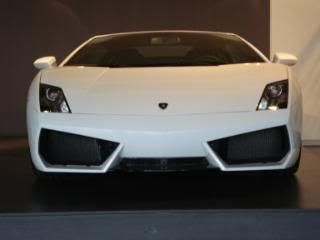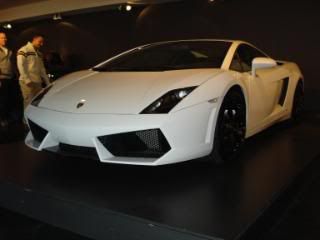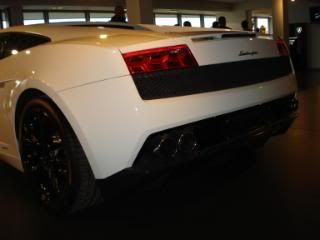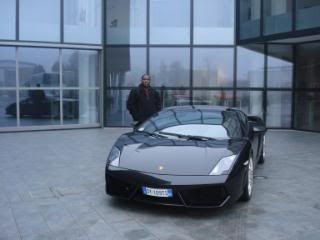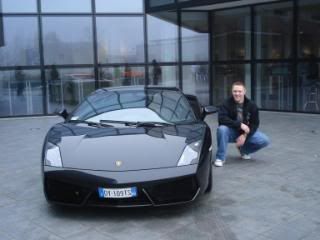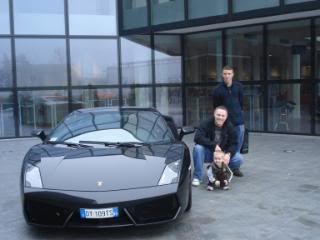 Our second stop of the day was at the
Ducati Factory
. Here according to our itinerary we were going to tour the museum and the factory, but they only took us through the museum so I was highly disappointed. The museum tour its self was a bit boring, but I'm sure for you motorcycle enthusiasts you would have loved it. I did find a couple things interesting but I'll point those facts out in my pictures. I would have loved to see the factory and how these bikes come together.
A few quick facts about Ducati. This company started out making capacitors before ever considering creating motorcycles. They created many other items before the Ducati bike including the first ever electric shaver in Italy. Ducati first decided to create a motor bike because many workers lived far from work and needed a quick and gas efficient way to get there and their first motor bike was created.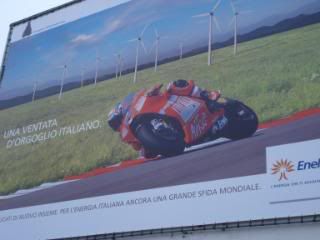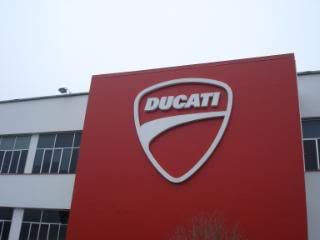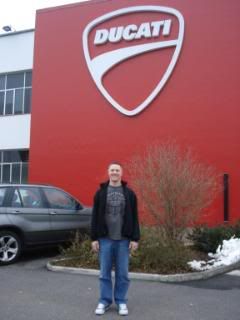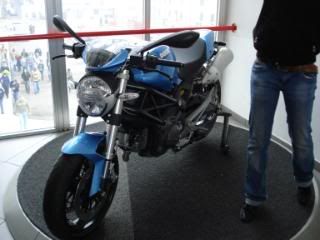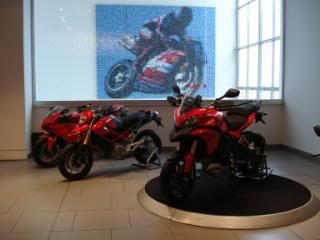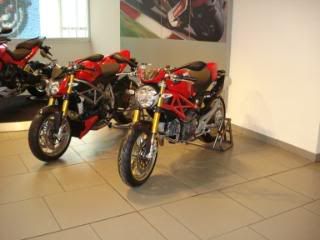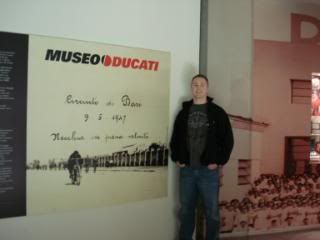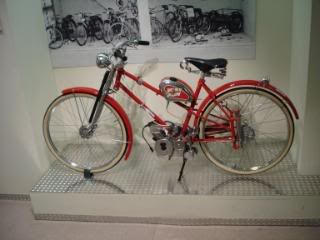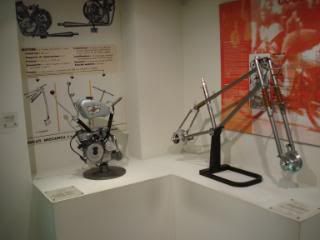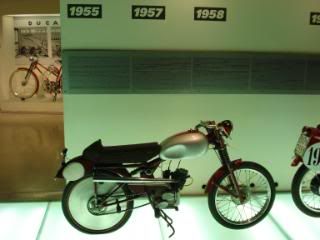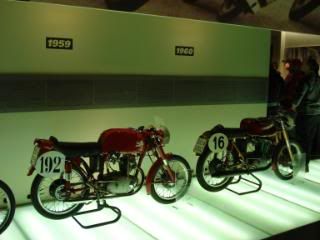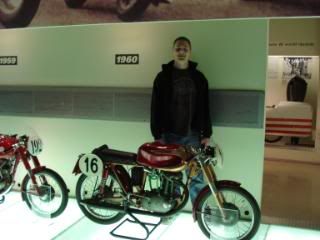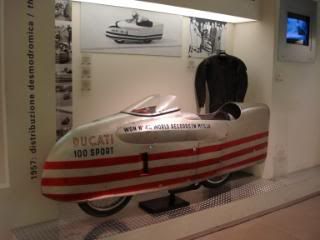 They call the motorcycle rider a pilot and they said that the pilot was enclosed in this bike and their crew chiefs had to help them start and stop of the bike because they couldn't move. That's just crazy to me.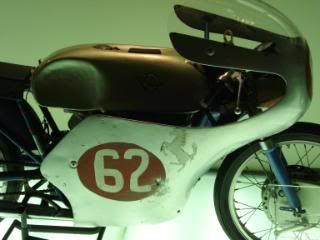 Can you see the Ferrari horse?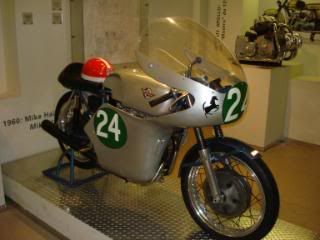 They got permission for a certain racer to have the Ferrari symbol on his bike because they were good friends or something. Man I should have taken notes during the tour!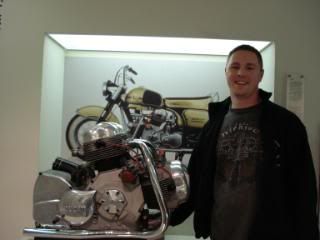 I believe this bike was called the Apollo. I believe she said that it was made to compete with the American Harley Davidson but didn't do a good job at it!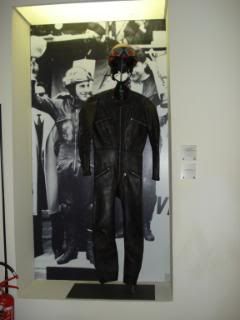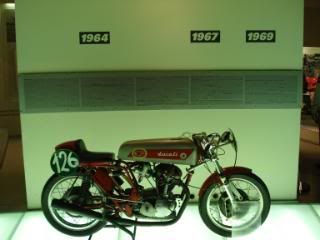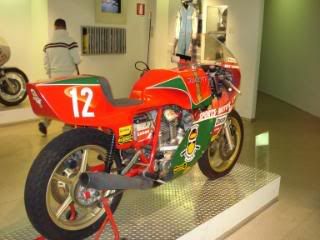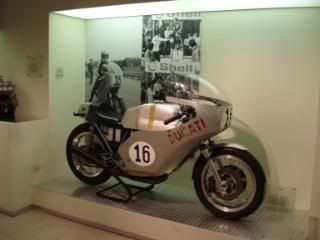 If you looke closely at this bike you will see a different color stripe on the gas tank. You can actually see your fuel level on this stripe. It was added becase one of the pilots ran out of fuel just meters from the finish line and lost!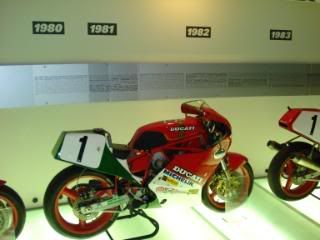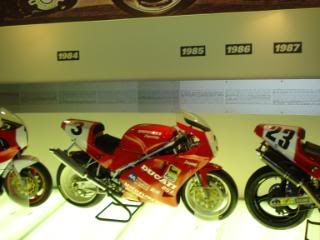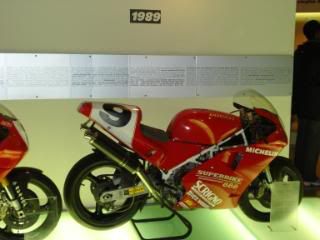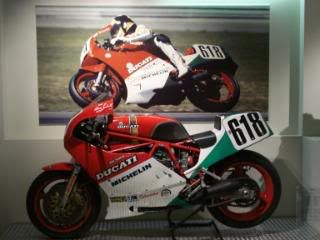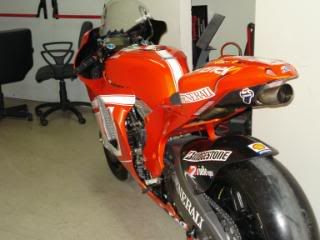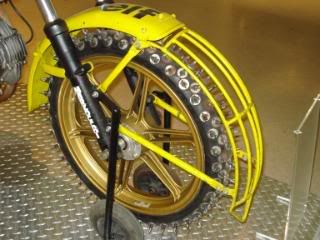 This bike was created for the ice! Look at those tires!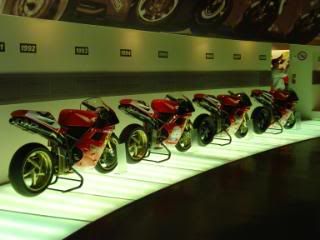 These bikes are called the "Sexy" bikes because they have curves like a woman's body (and no we didn't have a male tour guide LOL).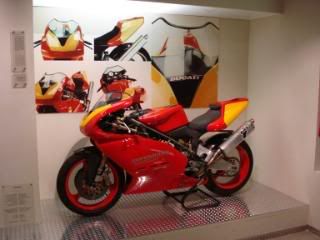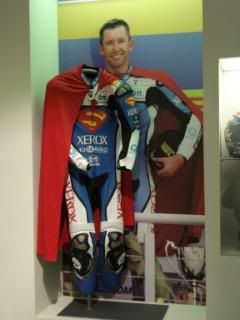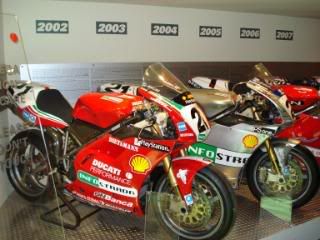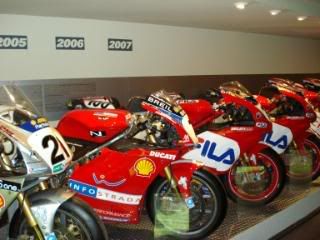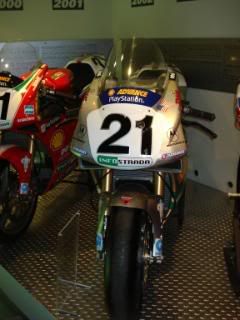 This Ducati has a small American Flag on the front in rememberance of 9/11.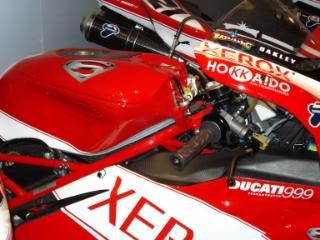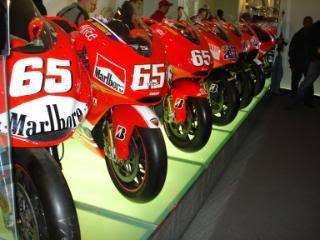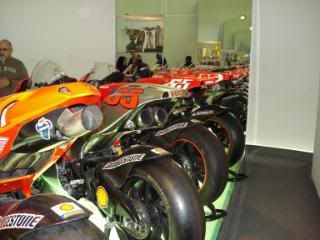 Some of these bikes pictured here are actually orange in color so that when they're on screen they look the Ducati red.
After this tour we stopped off for lunch in the town of Modena. Its a beautiful little town with a leaning cathedral. They added more weight to the top and now its leaning to one side and yes its quite noticeable when you're walking by it. To get to this town center we drove down an ancient road that is still being used to this day. It was a very important road during the Roman Empire and stretches throughout the region (you wouldn't know by looking at it today though, it's completely paved with buses and cars going down it). The cathedral itself is about 1,000 years old and contains items from the Roman period. It has two huge lion statues on the front that are over 2,000 years old. Its amazing to see things that old out and people just walk by them with out thinking. It truly is amazing the vast age and history of all these European coutries. It really does remind you how young the United States is.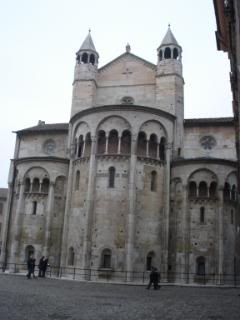 The leaning cathedral that is at least 1,000 years old and has pieces that are well over 2,000 years old.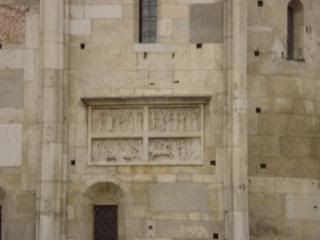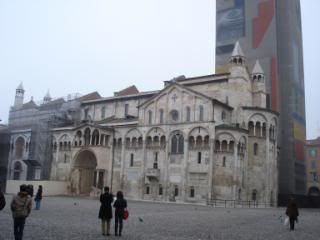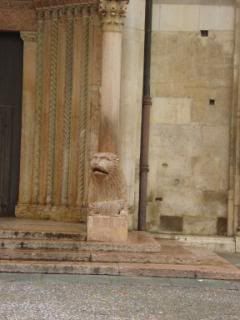 More pics of the cathedral and what I thought were 2,000 year old lions. These ones are only about 1,000 years old. Still freaking old though!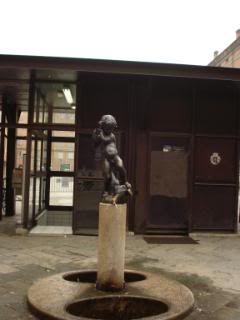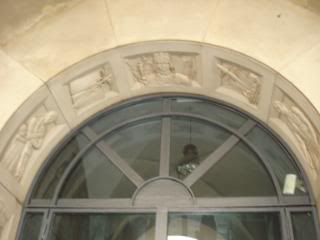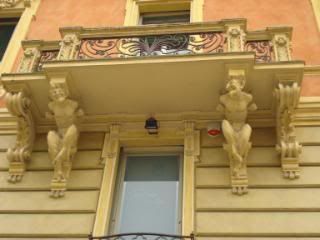 Random stuff through out the town.
I don't really get this advertisement. Do you?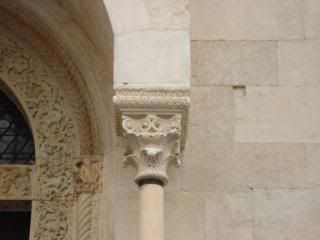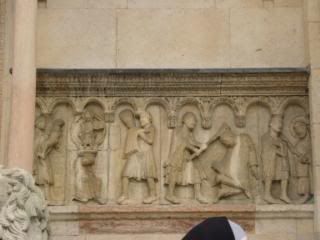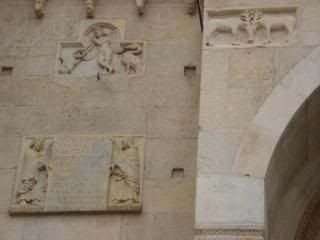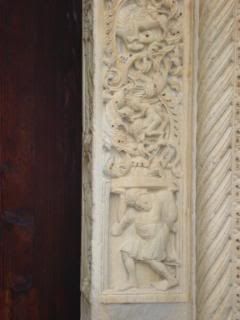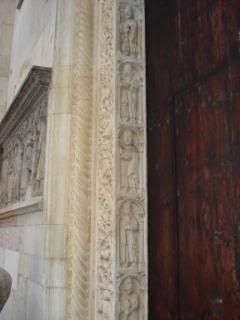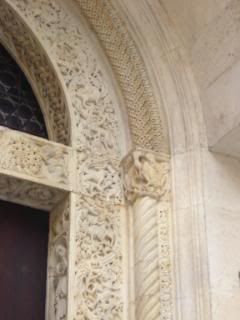 The detail on this cathedral is amazing. Each little thing on this church was put there so that it could teach the town stories from the Bible.
These are the 2,000 year old lions and they are absolutely beautiful!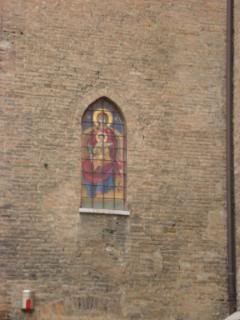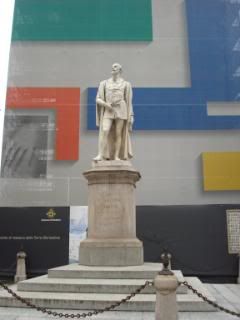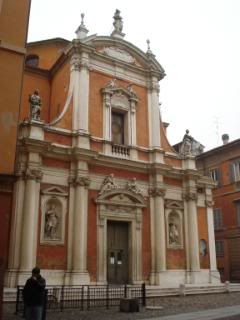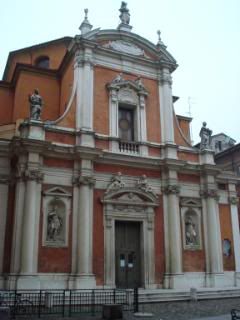 More random sites around Modena.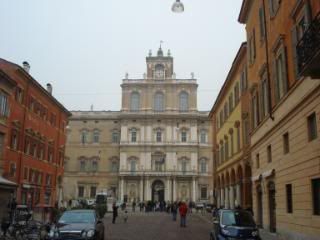 This I believe our guide said was a palace, but for who I cannot remember. It is now where the officers of the Italian military must go to school for two years before going to military school. They have dorms that they live in behind this building. More pics of this building below.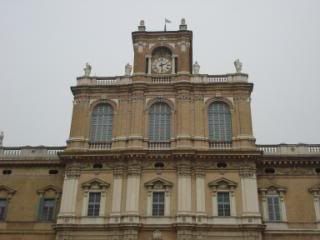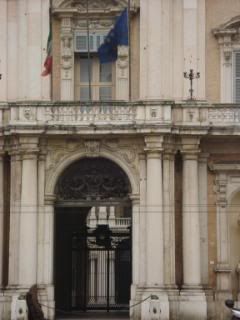 After lunch we were suppose to go to an organic cheese farm and a Maserati Museum, but we ended up at a Fiat dealership. Here were cars made by Stanguellini in the back of the dealership in a little museum. One of the original workers was there to give us a tour. These cars look liked toy cars to me. One I thought was one of those children peddle cars because it was tiny, but when you get closer you can see the gear shift and the exhaust pipes. I was completely amazed that anyone could fit in it. These cars though looked like Speed Racer cars. You'll know what I mean if you'ver ever seen the movie or cartoon. He also had several other cars as well. I don't really remember the history of these sad to say but I so wasn't paying attention at this point.
First registered vehicle in Modena.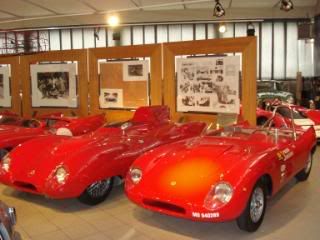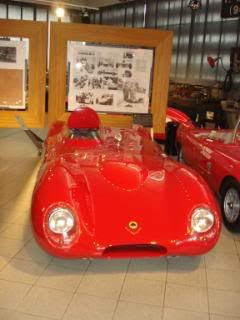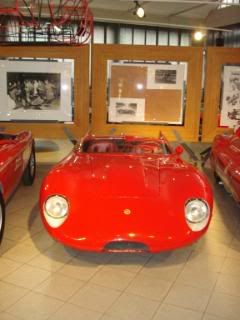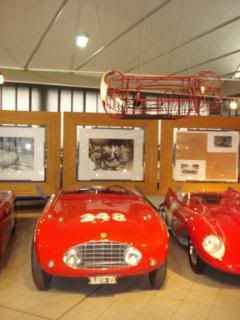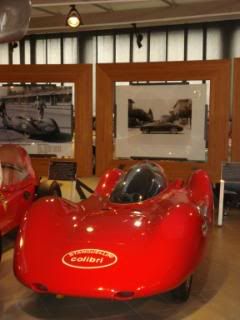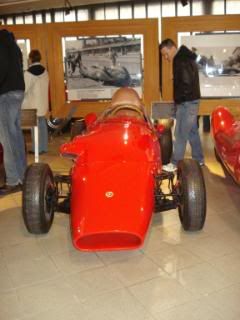 All the cars above were designed and built by Stanguellini. This was a very special thing to do and a visit that most Americans don't have an opportunity to do, but its still not clear to me who he was. I think they were racing cars and they remind me of the movie speed racer. The cars are little as well.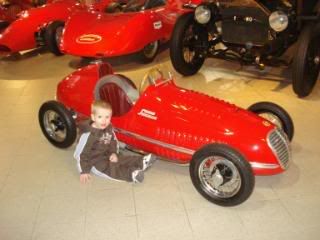 This car I thought was a toy at first its so small. I had to have our friend's little boy Richard sit next to it just so you all could see it looks small enough for a kid!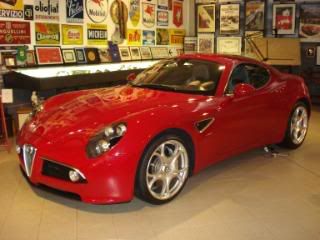 The hubby was totally drooling over this. Its the Alpha Romeo Super Car. This guy also had quite a few classics that I'm not going to post.
The last stop of the day was at the
Ferrari Museum
. Here we knew we wouldn't be able to see the factory or the race track. The only way you can see either of those is by owning an actual Ferrari which needless to say is way outside our pay grade. The place is absolutely huge compared to the Lamborghini factory which didn't impress me at all. For me, it made Lamborghini seem more exclusive and prestigious since only about five cars are produced a day and hand crafted. Ferrari just seemed more commercialized and like they just pump their cars out as if it were a Ford dealership. I was not impressed at all after our Lamborghini experience.
The museum wasn't impressive. They had a couple of interactive cars, but I don't like video games that much LOL. The gift store was extremely overpriced and the museum wasn't that impressive. Our friend Codie took all the pics for this one. Thank you Codie! (I'm going to let the hubby post these though)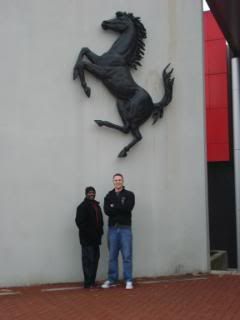 Jerry and Herman outside the museum.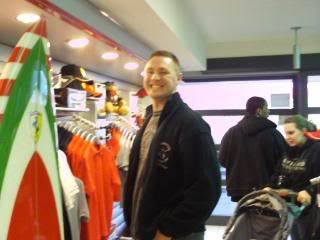 Browsing their super pricey gift shop.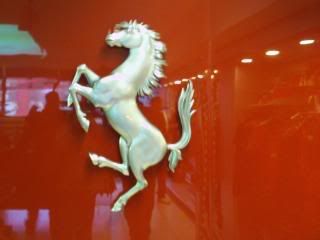 A little useless info. The reason the horse's tail is pointed up is because they wanted to fit it in the shield. They would either have to cut the tail off or turn it up and so they decided to turn it up.
Even though this museum wasn't a great stop, the thing that made up for it was that the guys got to drive not one but two Ferraris. Yes, I said they got to driver Ferraris. In the surrounding area there are a couple spots that you can pay to drive a Ferrari for 10 minutes up to 2 hours. This had to be the highlight of all the guys days! I did take a video of it but as you'll see I'm def not good at it but they also did a video inside the car for the guys and I can't wait to see that! The two cars they drove weren't brand new ones but a few years old. They drove a 360 and a 430. I personally loved the way the 360 sounded the other was super quiet, but the guys were just happy to be behind the wheels!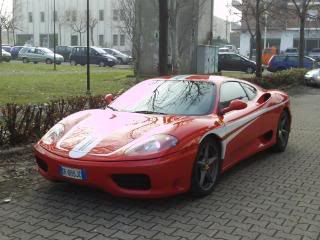 This is the Ferrari 360 that they got to drive.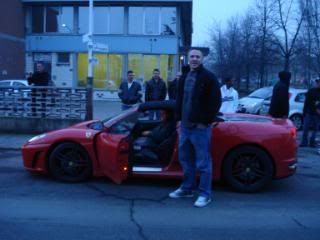 Getting ready to jump in the car!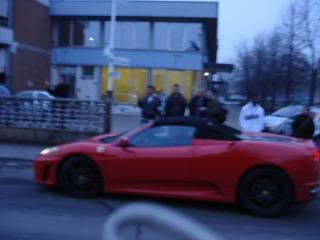 He's taking off!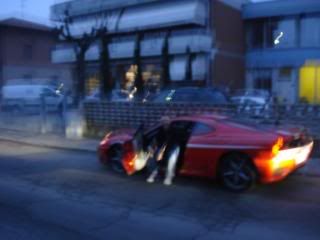 When he returned.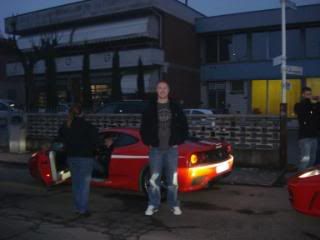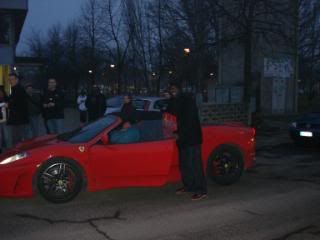 Herman all grins from driving the Ferraris!
JERRY DRIVING A FERRARI!!!!!!!!
This is a video of Shoup leaving in the second Ferrari shown with the black top. Half way through the drive they will switch cars and he will come back driving the hard top.
Our friend Herman was driving in the opposite car of my hubby.
JERRY RETURNING IN A FERRARI!!!!!
This video is of my wonderful hubby returning back to the driving place in the second Ferrari they had available for driving. It was a great experience for him that I'm sure he'll dream about for years to come. I def want to do this for him again!
CODIE DRIVING A FERRARI
This is our friend Codie driving the Ferrari after Jerry and Herman got back from their little cruise. Needless to say he was just as excited as the other two!