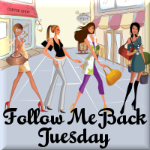 Well I haven't done one of these before but I was telling my friend about this so that we could get her moms blog involved. She is this amazing artist and makes these floor cloths that are to die for and has a gallery where she sells tons of amazing stuff. I seriously would have bought a billion things from it if I wasn't so freaking poor! Her blog is called
In Color by Laura Harmon
and just thought I'd give this follow me back Tuesday a shot before I had her try it out! You know I didn't want to go on and on about how its the greatest thing to get more readers and works magically, so I'm giving it a go!
I found this blog hop on a blog I follow and if you look to the left you'll see her button for Boobies, Babies, and a Blog. She has all sorts of neat stuff on her blog as well and is always having amazing give aways! Now only if I could figure out how to have people give me stuff for giveaways! I know I know what you're thinking I get all kinds of stuff but its just not the same!!
If you're here for the first time you'll see how random my blog is...started out for family and then its started to grow! I have followers I never thought would follow me since I don't know them personally, I started doing reviews for books which I love to read and I've found a few other ways to earn stuff! Plus I still keep my random ramblings and I like to show off stuff I love, will love, or have loved! We'll see how this whole follow me back thing works and maybe I'll do another in the future!