About a week ago my wonderful hubby took me shopping and I got this beautiful water color painting from a local artist. Its a 2 of 5 of a limited edition reproduction. She had many originals there but we loved this one of St. Mark's Basillica. I hope to find her again because her work is absolutely beautiful and I would love to add more to my collection of stuff from Italy.
So today we go shopping and I have been wanting the hand painted masks from Venice and we came across a lady who handmakes them all. They were all so beautiful and I fell in love with many of them. I could have taken them all home and been happy but I limited myself to just two. A set one for a man and one for a woman. I got them in this dark blue and gold. I'm thinking that these would make wonderful gifts for Christmas, but I'm not sure who would really love one.
I had one wall in my hallway that I didn't know what to put on it and I decided to make it my Italy wall. I'm going to hang all my beautiful treasures that I find on it. Below I will post pics of my newest treasures.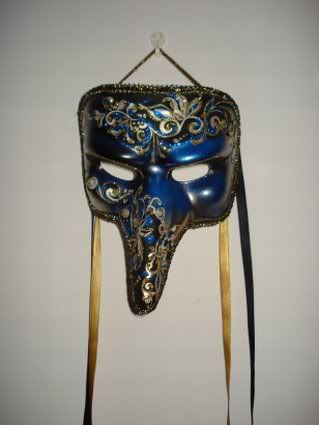 This is like the mask the men would wear. The come in so many beautiful colors and designs.
This is like a mask the women would wear. Now there are a ton of masks that women would wear. There were so many to chose from. I loved the ones with feathers and thats why I chose this one.
Here is a picture of the painting. We just love it and we hung the masks around it. Isn't it so pretty?!?!