So living here there are obviously going to be differences so I just thought I would share a couple with you. As many of you already know we do not have closests!! I will take more pics of our home once I figure out where to keep everything but for now its kinda cluttered and I would be too embarrassed to have that posted on the internet for the whole world to see!!
I did take a pic of my tiny little stove though. You can see how the spot they put it in was for a full size stove and well mine just isn't full size!! My kitchen feels like it was made for littler people and my back is always killing me by the time I am done cooking and doing the dishes! I use to hate doing dishes before but now all the bending over is killing me!! Also some of the items we pick up at the commissary even look different. I took a pick of my milk so that you could see what I mean. We only have 1/2 gallon and I think 1/4 gallon (the little cartons). No gallon jugs for us and we only have one brand. If it comes from the U.S. everthing is stamped export and obviously we have a lot of stuff that was just made here in Europe some where. Like we eat Danish eggs here.
Anywho here are a couple pics. When I get unusual stuff I will try to remember to take a pick of it so you can see the difference between here and there!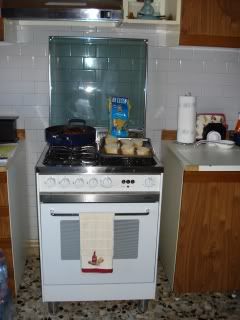 Here is my tiny stove. It is a gas stove and it has this glass cover that you can pull down over the burners....I use it to serve off of when I'm done cooking but I don't really know what the cover is for. I have never really used a gas stove before but it scared me and I was totally convinced that I was going to blow up the house!! Silly I know but now I am comfortable with it.
We have like absolutely no counter space so I really like this dish dryer. I didn't know it was there until Jerry showed it to me...I just thought it was another cupboard. It doesn't fit pots and pans well so I usually just let them dry in the other side of my sink or dry them by hand. Anywho just thought this was a neat idea.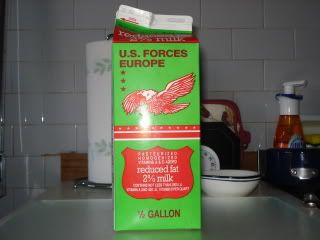 As you can see we have our own brand of milk! We like the bright green and red one a.k.a. the 2%. As far as I can tell it tastes the same. Just thought it was kinda cool that it was different.
Oh and if you're a Fanta fan you totally have to try the European kind!! Even if you're not I am sure you will end up loving it here! It isn't as sweet and well just tastes better! I love this one in a red bottle! I have no idea what flavor it is but its so good! I'm sure I'll have some in the house if you visit!