We had heard from a friend that one of the towns near by put up a ton of nativity scenes or in the Italain world presepi (meaning mangers), so of course we thought this would be such a fun thing to check out! We decided to go today since it is Christmas Eve and we stumbled across a different little town near our original destination, so we decided to check out both. We took well over a 150 pics today and could have taken a ton more. We were amazed at how many people actually took part in this and all the different ways and things people used to put them together! It was truly an amazing little adventure and we had so much fun trying to find to all the places that they may have been tucked away in. I am not going to post all the pics that we took but the most interesting ones from each town!
The first town we went to was
Frisanco
. It is a tiny but cute town! We met a really nice English family that talked to us and showed us their presepi (they put up two). I will post the pics below of the ones we found in this town.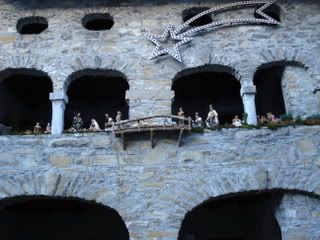 This is one of the first ones we found. It is on an archway over a walkway...it is really cool and pretty!!
This one is near the center of town. Its one of the bigger ones that you are first greeted with when you enter this tiny town.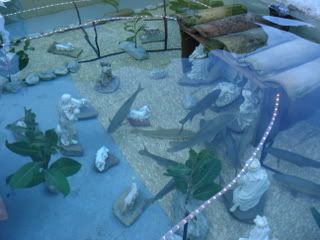 This one is in the fountain! I didn't even notice it when I was walking around at first. Jerry at to point it out to me! I guess its more of a pound because if you look closely you will see fish!!
This one is just so fun and colorful! It is made by one of the locals. We found this down one of the walkways that lead to the towns peoples homes.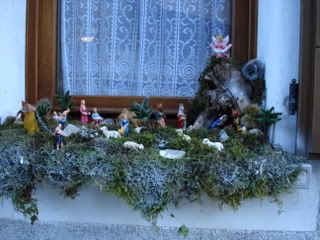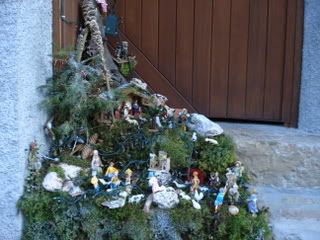 These are the two that the English family put up every year!
This one is just intereseting since its made out of nuts!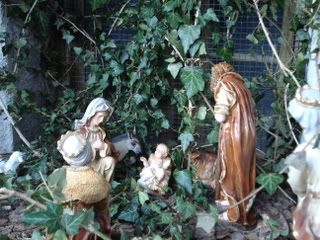 This one was Jerry's favorite in this town.
Looking down on the town from the hillside! Isn't it beautiful?!?!?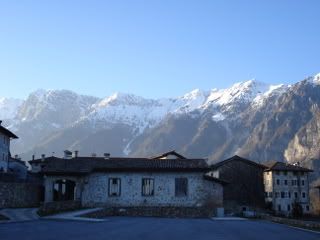 Just sharing the view! The mountains are beautiful!
Okay so on our way to the second town we kinda got lost or misguided but we're not pointing any fingers! So we followed these signs on this horrible road that should be one way its so tiny and we think we're headed towards a town! Boy were we in for a surprise when it just dead ends at someones house! The guy was probably thinking what stupid Americans but its an adventure none the less!!
Here is a pic of the little road we were on! I should have taken pics of the worst parts...I couldn't believe we actually drove over some of this stuff
Here is a pic of us with the town sign that doesn't lead to a town just a house!
So needless to say we turn around and get the right directions and find our way to
Poffabro
where I believe the tradition of setting out all the different styles for of presepi for display began. This little town had so many to choose from and look at it was amazing! We took so many pictures that our camera almost ran out of batteries. We were truly amazed with how many there were and all the different types. We took pics of a lot of them but not all and I'm sure there were many more that we did not see! We plan on making this our Christmas Eve tradition while in Italy so we'll get more pics next year and hopefully find new interesting ones as well!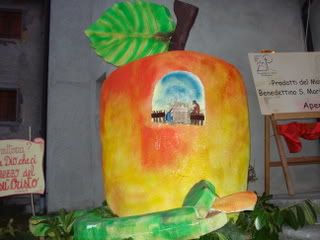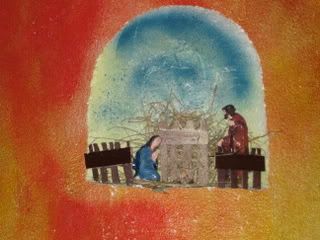 This one we thought was unique....I'm not really sure what the significance of the peach....I'll have to google that one and let everyone know.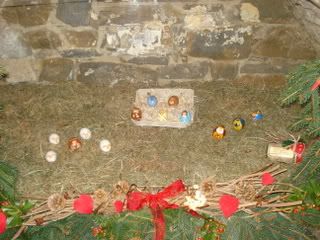 This one is made out of eggs! I thought this was weird yet cute.
Just cute.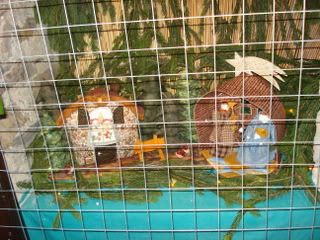 If you're a quilter you'll enjoy this one!
Someone did a whole town...in the very back is the presepe.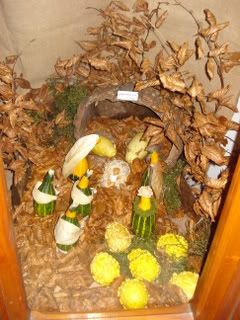 This one is for any of you who garden or just like your veggies LOL.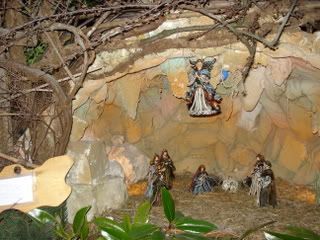 Another pretty one.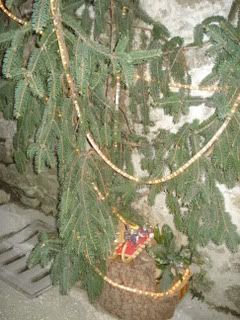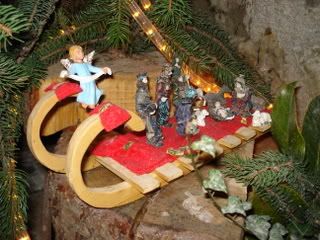 We found this one at the bottom of the tree.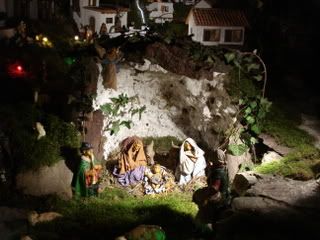 another one that someone did of the whole town and I took a close up of the manger seen as well it was so pretty.
Just another unique one...its amazing that almost everyone in this town participated...
I thought this was so cool when I saw it....there was another one similiar to this one but Jerry and I liked this one best.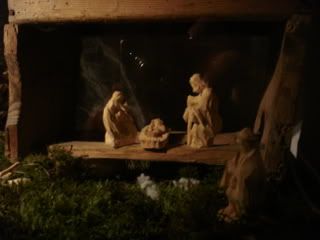 Carved ones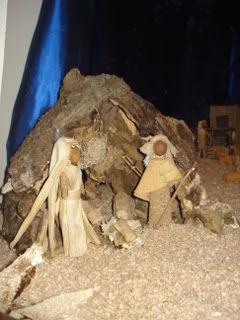 wood and sawdust...it was interesting! We found one out of clothes pins nearby but the pic came out too blurry it was cute in person though!
Eskimo seen....definitely different.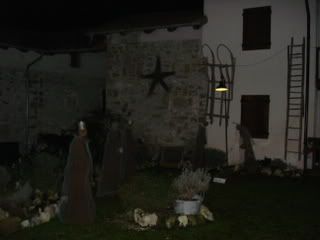 We both thought this life size one was pretty cool!!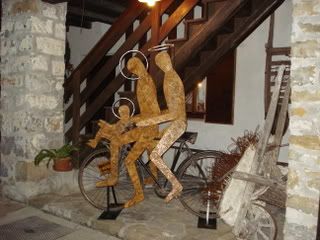 This one was definitely one of the more stranger ones!
This one was too cute down in like a birds nest!
Of course being Italy you have to have the Murano glass seen.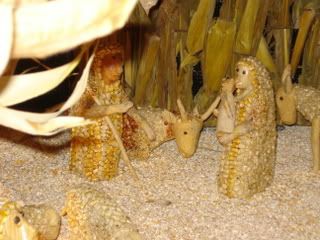 As you can see they found a unique way to use their corn!
As you can see there were many unique presepi to be seen! I wish I could post them all but you would be on here for days looking at them! Plus some pics didn't come out as well as we had hoped. But this was definitely a fun thing to do on Christmas Eve! It sure was a change from going to look at Christmas lights (which not to many people around here decorate with anyhow so that would be a boring drive) and something I look forward to doing next year now that we know where to go and how to look for them!