I just wanted to say
MERRY CHRISTMAS
to everyone since we will be more out than in this year. I am not cooking this year but we have been invited to two of Jerry's coworkers homes for the holiday and we gratefully excepted their invites. Hopefully next year when I'm more settled in and know everyone a little better I will be able to host the holiday dinners which I love to do!
At one of his co-workers home we will be doing like a ten buck gift exchange (I think it was suppose to be a 5 dollar exchange so I may have gotten carried away again!) and I put together a couple of baskets to give away....yes I tend to get carried away with gifts but everything in the basket is equal to or under ten bucks! The gift wrapping doesn't count as part of the present.....but I put one together with the Christmas Apple Korn and a couple mugs (I figure you can spike your apple cider with it) and some brandy covered cherries and the second basket is gluwhien, with two mugs, and some spiced cookies.....I figured its that time of year to have the warm sipping alcohol! LOL!! I'll post a pic or two of my two baskets I put together.
Since we will be gone almost all day tomorrow we decided to exchange gifts early!! Who am I to complain right?!?! Well I got a big ol' grin out of my hubby when he opened his package!! He was too happy with what he got!! And I was totally thrilled with my gifts as well!!
Of course we got our doggies gifts as well!! They got 3 wet foods each, raw hide bones, pupperoni sticks, these steak treats, and beef basted dog bones! Trust me when I say they love their presents! They had a wet food for dinner tonight, they'll have one tomorrow night, and one for New Years day of course! (they only get wet food on holidays so its always a treat to them!)
I got him his PS3 finally!! He was so happy!!! If you couldn't tell from that big ole cheesy grin!!!!
Of course he got a gift from each of his doggies to go along with his PS3 and yes those are blu-ray discs! He is going to be getting a t.v. that goes with that as well!! (or should I say we are getting a t.v. because I'll be using it to of course!) It won't be until the end of the month but better late than never right?!?!?! So needless to say he is completely thrilled!
I got Vera Wang Princess which I absolutely love the way it smells!!! I got a book that goes along with my Harry Potter books....yes I read them all....I'm not obessed or anything but they were a really good read!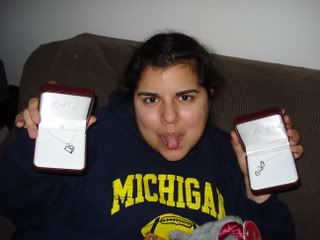 And of course the jewelry!! A girls best friend diamonds!!!! I got two necklaces and I absolutely love them both!! For being a guy he has good taste when it comes to my jewelry...I think he has picked out almost every piece that I own!! I have never had such beautiful things before him!!!
As you can see our Christmas has started out very well!! We have been very blessed!! Oh and we are trying out the Protestant Comtemporary service on base. Yes many of you know that I am Catholic but we want to go to church together so I promised to give it a try for two months and if I am still uncomfortable we'll go to Catholic church every other weekend until we both find a service we can agree on! But so far so good! Its just something I have to get use to!!
Any who MERRY CHRISTMAS!!! I'll post pics of our dinners tomorrow if we don't get home too late!! Take care and God bless!